Guided Backcountry Tours

Skiing, Canoeing and Hiking in the Bowron Lakes, Cariboo Mountains and throughout British Columbia

Schedule and Reservations for 2018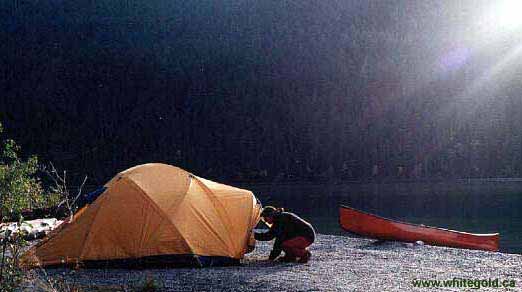 In addition to scheduled trips, we specialize in customizing trips to suit your needs, privacy, group size or travel requirements.

Ask about how we can make your holiday a memorable one.

SKI TOUR - Bowron Lakes. 3, 4, or 5 day

We are COMPLETELY flexible with your winter ski trip departure dates! You set the dates to satisfy your own travel needs, and we'll advise you about how to get the most out of your trip! We recommend Monday or Tuesday departures, from Mid-January until Mid-March. Ask about other special events you can tie your trip to. 3 Day West Side $525/person, 4 Day East Side $675/person. Visit our Winter Trips Page for complete trip descriptions. Price includes customized sleds, Park use permits, 2 guides, and all food.

5 Day Trips, and additional self-propelled, and resort based activities available. Wells has fantastic accomodation and groomed xc trails, Barkerville has deep snow in a historic townsite, Troll Mountain is 20 minutes away with on-hill accomodation and 1700 feet of vertical. Excellent backcountry telemark trails are also here. Contact us for details.

CANOE TOUR - Bowron Lakes 8-day Full-Circuit Trip
June 17 to 24
June 30 to July 7
July 15 to 22
August 9 to 17
Aug 21 to Aug 28
September 2 to 9
September 16 to 23

Custom Dates available in May, June and September Minimum 6 people

Price: $1,695 Canadian plus GST (5%) - $250 deposit on booking

If we don't have a date to suit you, contact us about alternative departure dates which may be available!

Includes:

Professional Guides and canoe instruction
Park fees, and private, reserved campsites
Canoes, paddles, lifejackets, carts and related gear
Tents, cooking supplies, all delicious and homemade meals prepared by your guide daily
Complimentary meal at Bear River Mercantile on the last morning of your trip
Certificate of completion of the circuit
For your safety we carry satellite phone and radio communication
CANOE TOUR -Bowron Lakes 4-day West-Side Trip

Trip Departure dates are flexible, but offerred in May, June and September Only.

Set your own departure date! (Minimum 3 people or equivalent) or ask if we have a trip in the date range you are looking.

Price: Can$850/person,plus GST (5%)
Includes:

2 nights accommodation at Mountain Thyme Getaway
Park fees, and private, reserved campsites
Canoes, paddles, lifejackets, carts and related gear
Tents, cooking supplies, all delicious and homemade meals prepared by your guide daily
Professional Guides and canoe instruction
For your safety we carry satellite and radio communication

HIKES(in addition to our multi-day hikes we offer a wide variety of hikes, and driving/walking tours)

Visit our Day Tour Page for details and prices
1861 Pack Trail

- Special 150th Anniversary Hike July 11 to 13 (3-day) $595 per person
- other dates as requested
minimum 3 people

Cameron Ridge

- as requested

$475 per person (from Wells)

Day hikes

- visit our Day Tour page for prices and details

includes lunch, snacks, return transportation to Wells, or Barkerville, and guide. You bring a water bottle and appropriate clothing. Minimum 3 people.
CHILDREN

Having children of our own, We can appreciate the multiplier effect when you start adding the per person cost together for a family grouping. We have a special affinity for children, and a good understanding of their needs and family needs in the outdoors. Our own children have been paddling and dabbling on canoe trips since they were three and five. We know how to make family trips into special trips.

There are advantages and disadvantages to travelling in the company of other children as I am sure you are aware and I will be happy to meet your needs in this regard. Our ski trips in particular, are very popular with young families. I hope that this information will help to set you on the path to Bowron for next year.

With grandparents and three kids (10 - 5) we had some anxieties about doing this but Whitegold made it the trip of a lifetime. We had a wonderful introduction to the Canadian wilderness, we learnt to paddle and returned tired but well rested. Dave's knowledge of the area and its inhabitants is fantastic; his humor and his ability to enthuse children is exceptional. Jake (10) - 'He's quite a dude, and his jokes aren't bad either!' Thanks Dave. We loved it! - Jon and Ruth



Guided Family Canoeing Trip


For an additional charge we can help you to arrange anything else you may need, including personal gear, rain gear, packs, sleeping bags, sleeping pads, transportation from Quesnel to Wells, accommodation and meals in Wells and information on other things to do in the area.


OTHER INFORMATION

Getting Here

We can arrange pre- and post-trip accommodation in Wells.
Call us at 1 250 994-2345 or toll-free in N. America at 1 866 994-2345 for trip planning, directions, bookings and more information.
MAP

View/download/print our brochure [pdf 262k]


Recommended Links
Thanks for your support and encouragement.....Once again I have been able to enjoy a wilderness experience that would not have been possible without your help. - Ethel Gowman (following her second trip with us )

---